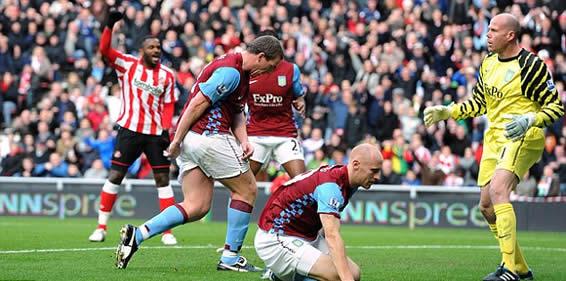 This is a post-mortem and some today. You see, we have some real speculation and some general football news, which if true, just goes to prove, beyond any doubt as far as I'm concerned that the game as we once knew it, is gone.
But before I get to that and I suspect you all know what I'm writing about already, we should look at the match on Saturday and for lots of reasons it was a very good result and a positive performance, but let's not get carried away thinking we have turned the corner just yet.
What the Papers Say
Paul Wilson
,
The Observer
Aston Villa could have made this victory much easier had Heskey put away a 65th-minute chance when Ashley Young rolled the ball across goal in his direction, but, being Heskey, he managed to make no contact – just as he failed to stay on his feet when Young tried to send him through the middle a few minutes later. For Houllier, the memories would have been flooding back, so it was just as well Heskey finally found the net 10 minutes from the end.
James Corrigan
,
The Independent
Whether or not Richard Dunne really did launch a verbal tirade against Gérard Houllier and Gary McAllister, the manager's assistant, at training on Friday at least one thing is certain. In footballing terms, Villa did not miss the veteran defender on Saturday.
The Manager
Gerard Houllier
Let's be honest, for the players it was not an easy game on the back of a series of defeats. West Brom are a good team. They beat Arsenal, they drew against Manchester United, they beat Everton and I saw them beat Newcastle at home too. It's not easy when you're on a bad run to play a team like that. They are full of confidence. I must say after a shaky start we played extremely well.
The Players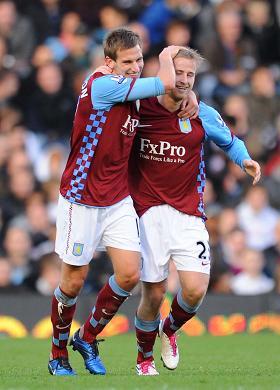 Brad Friedel, Stephen Warnock, Carlos Cuellar, James Collins, Eric Lichaj, Stewart Downing, Ashley Young, Marc Albrighton (Chris Herd, 90), Barry Bannan (Nigel Reo-Coker, 73), Jonathan Hogg and Emile Heskey (Nathan Delfouneso, 84).
Man of the Match
I was sat next to someone in the pub on Saturday who spoke about the accuracy of the crosses coming in from Marc Albrighton and it was his cross that Emile Heskey had to do very little to get the winner.
Albrighton is looking more and more like the type of player we have been missing for a very long time and it is no surprise to me that he won the man of the match vote. Full results of the man of the match vote can be seen here.
Final Analysis
James Corrigan mentioned it above; we didn't miss Richard Dunne. I don't think we missed Luke Young either and I loved watching Eric Lichaj play in his position. But I like Luke Young and have absolutely nothing against him, I just think there is something about Lichaj.
He knows this position, has lots of energy and he is used to playing with Albrighton right in front of him - it reminds me of Beckham and Neville in the 90's and that understanding can often take years to gel - we have it right now and we have another ten seasons of it if we want it.
It was also very nice to see Nigel Reo-Coker make an appearance and say what you want about Heskey, he plays that role, up there by himself, perfectly. He even tracks back and gets involved, is always back for corners and doesn't stop running.
I always thought that was the reason we brought him to the club and was very pro his purchase as I thought that was his best position. Funny that when he gets to play it, we get a win. But it does make you wonder what happens to Gabby - no goals in the League this season despite making more appearances than Heskey.
At the end of the day, the result was all that mattered on Saturday and the result was exactly what we needed. The football was okay too and we moved with purpose and there was a very nice blend of youth and experience.
Monday speculation and the madness of football
So, the post-mortem is done, but we have some speculation. First bit is that Stephen Ireland really is off in January. He didn't make the bench at the weekend and I mean no disrespect to the lad, but I fancy I'd have a chance of making the 18 if given three months at Bodymoor.
I don't think any of us will be really surprised with Ireland not showing any interest and the irony of it all is, I fancy James Milner is regretting his decision and if he'd just listened to us in the first place, he'd be playing regular football for Aston Villa and he'd still be in with a shout of keeping his England place.
The other bit of speculation, which I'd call news if it was in any other paper than the Mirror is below.
Gerard Houllier has given his Aston Villa squad two days off to clear their heads after Richard Dunne's training ground bust-up, and the Irishman could be on his way out of Villa Park.
This training ground bust-up happened. I don't know this for sure, but it is coming from too many places to think it didn't happen and while the reports say that Dunne has the support of the squad, I can tell you that that is probably not true.
I've worked at companies that have been sold, have had new management come in and I've also worked in roles where I was part of the new management or part of the company coming in and one thing I can tell you that happens a lot of the time, is unrest and unhappiness, especially when it all comes as a surprise.
When people talk, they always have the support of the department of team they were in and the ones that speak out are usually the ones that feel most threatened and it usually turns out there is very good reason for that.
There are lots of rumours doing the rounds about Richard Dunne and they are just rumours, but to lose your rag in training, is not usually a good sign and I think it is fair to say we have better central defenders at the club.
Not the first and he won't be the last
Lastly today, I turn to Carlos Tevez and this really does baffle me, because it turns out that even players have had enough of the game. Reports this morning say he is earning £286,00 a week after tax and when you add that all together, he is taking home £14,872,000.00 every season - which probably means his annual salary is well over £25,000,000.00 and guess what; he wants to walk away from it all.
It is easy for him to walk away though with that type of money in the bank because he will never be able to spend it all and we all know players are getting millions more than they should, but the game has to be fixed and this isn't the first time a player is going to walk away from the game and he wont be the last.
Former Ipswich keeper Shane Supple walked away from the game last year when he said he had 'fallen out of love with the game' and I have no doubt that when he did walk away, he had a few quid in the bank and seeing as he lived in the real world, it was probably enough to put it in the bank and live comfortably for the rest of his life while pursuing other career opportunities.
The game is broken, we can all see this, but we still spend our money and it is never going to change while we continue to fuel the fire. If we should know anything about the people that run this game, they will not do anything while their pockets are getting lined with our cash.
One day, we are going to have to make a stand. We are going to have to, for the love of the game.