We won yesterday and while it wasn't like watching Barcelona and we were only playing Rotherham, the performance was encouraging and we saw something that we'd maybe like to see again, players playing with a little bit of purpose. We also saw Tammy and Bolasie score and John McGinn put in the type of performance that is going to get him noticed.
And hands up, when we signed Bolasie I wasn't that impressed, but I'm fickle and I've changed my view. There is something about him that makes me get excited, it's like he wont take defeat and he wants to win. On John McGinn, what can I write that will do it justice .. I don't think I can. It was also nice to see Jack play on the left. I know he probably wants to be more involved in the middle, but from the left he's got options, he crosses or he comes in side.
If we can start to move more quickly, he'll get chances or he'll create. But enough about that.
You see, despite the optimism that I can see and had we won 5-0, they'd still be some that moan and complain. They'd find excuses in the performance or result that ended up with them saying the manager has to be sacked. You're always going to have those. They can't just enjoy the day. Sure, they'll say they can, but actions speak louder than words.
It's becoming quite boring.
And I'm of the belief that the new CEO has already started looking for a replacement. Bruce has had is chance now. The thing is, for all these moaning and complaining, they never really gave Bruce a chance. Again, they'll say they did, but they didn't. Actions and all that.
I'm also not sure if it's gone far enough that results don't matter, but I do know that change brings disruption and teams rarely go back up in the third season. So, if they're going to replace, why not. But if they're going to replace, why let the manager bring in all these players? I think he's two defeats on the bounce away from the sack or maybe even not getting two wins out of every three.
It's sort of irrelevant. Hope has gone from supporting a Football Club because we're all managers. Or owners. Or fools, like the gardener.
Match highlights
The chart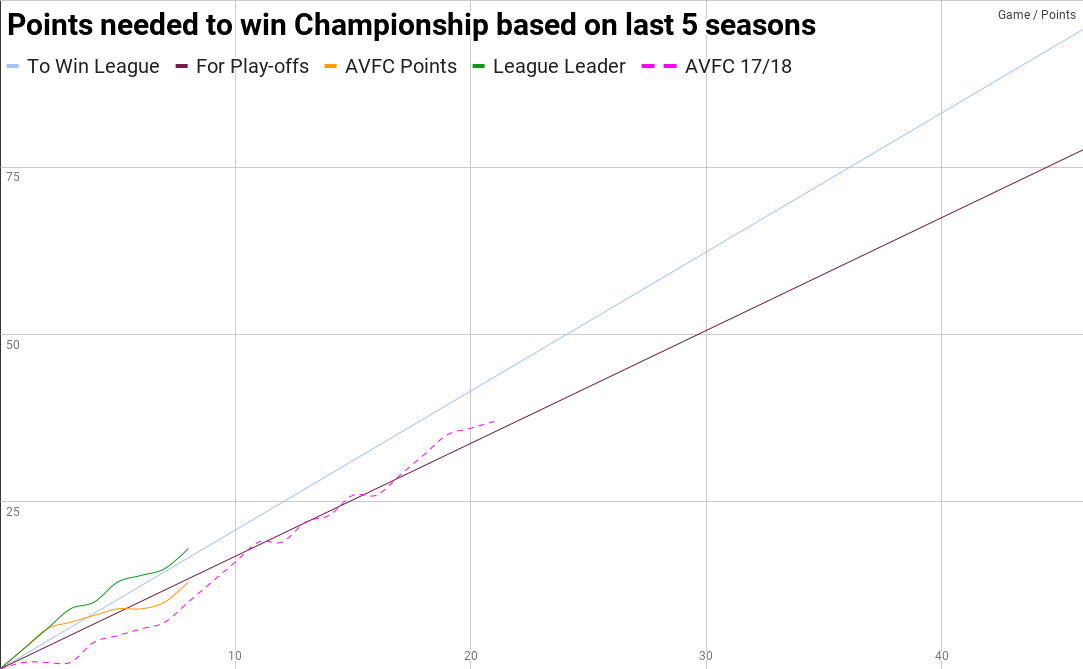 AVTV
And while I'm the first to moan with the service provided by the Club and I know that there are some that still have issues, I'm happy to report that things seem to be getting better. Timing is good and no real issues with the stream. So, now the gardener is no longer involved in day to day operations, things seem to be getting back on track.