Brighton come to Villa Park tomorrow but I suspect there will be more interest in the matches at Brentford and Forest. Me, you know what I'd like to have happen. There has to be something that puts a smile on my face from the season.
I write this because it was pretty much a catastrophe from the beginning. We appointed the wrong manager and we let him bring in too many players. We're spending next season in the Championship because of the owner and CEO and regardless of how great you think they are because of their social media profiles, there is every chance we'll not go up next season too.
We have to brace ourselves for what is to come and it's not pretty. Most clubs that do not go up at the first time of asking don't go up at the second attempt. We have to hope that Bruce only brings in players that improve the starting eleven and that the number is sensible. We also have to hope that the relegated clubs make lots of changes and bring in new managers.
We also have to show the door to Gabby and Richards. But all of this has been written several times before. It's just that this is where we are now and we have to accept it.
Live streams for overseas fans?
You've probably heard, but 61 of the 72 clubs outside of the Premier League have also signed up to a service called iFollow that will launch next season. It means if you support a club that isn't in the Premier League, you'll be able to watch all the matches live via stream.
Aston Villa haven't signed up yet as they have the option to use their own platform but we've also not heard anything from the club yet. With iFollow it will cost £110 - I can't imagine it will cost much more with the Club, but they do charge nearly £50 a year for the radio stream, so you never know.
The good news for all those in the UK is that when this goes live - streams will be plentiful for all matches next season. It will be good for everyone ... if the Club get it right that is. It took them years to figure out how to stream radio!
What happened to Bruce?
So that's it. On Sunday the season ends and we wait for the next one. We hope that the manager does what we all know is right and we hope that the owner gets involved when instructed to by the manager.
This is another season that I'm happy to see the back of if I'm honest. The last owner lost interest and there was a certain inevitability with what happened and the current owner made amateurish mistakes that mean we stay here. But we've made it to the end and there is hope for next season.
But before I end the post, does anyone know what happened to the manager? I've read the mole story, but why stitches on one side and the other just what looks like scratches? And if memory serves me correct, this wouldn't be the first time for Bruce.
Anyway, it doesn't matter now. The season is over, it's official tomorrow. I'm going to go cut the grass.
Picture of the day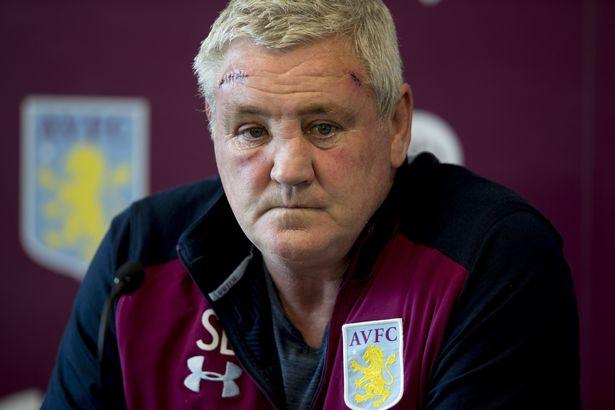 Upon publishing this post, I was pointed to a post on the Club website where they have written about this and point you to a very old questionnaire. It was almost as if they just wanted to get something out. All they have to do is stream it on the web and make sure that the stream can be shared to Apple TV and Chromecast.