If you've visited this blog more than three times in the last year you'll know one thing about me; I like numbers. For me, numbers are the answer to most things and it's not just what we can see in front of us, it's numbers everywhere. The numbers don't lie or pretend to us.
For instance, we know what Randy Lerner paid for Aston Villa and we have a rough idea about what he sold it for. And we will know for certain very soon. We also know what Randy Lerner wanted for the Club and we can also see there is money getting spent. We don't know where any of this money is coming from or if this is just one huge punt on getting back into the Premier League at first time of asking, but we have to hope it isn't and that if we don't get back in, we're not going to end up like Leeds, Blackburn, Portsmouth or so many others.
The numbers help see the past and understand or know a little bit more about the future. When we don't have numbers, then we have to have faith ... don't we?
Anyway, I don't want to focus the post today on all the money Aston Villa are spendinspg or where it is coming from, because only a handful of people know, so it would have to be filed as speculation. Instead, lets focus on the numbers that can tell us what we need to achieve this season to get promoted.
It's about ambition
But before I do - let me say this. I believe firmly that we must be aiming to win the league this season. I write this because I put a poll out n Twitter at the weekend and 59% of the people that responded thought we would finish in the top six. If these are the expectations or what we think will happen, there is every chance we wont get promoted.
We have to aim to win this league and do everything to make that happen. If we fail at that, then maybe we finish second. If we fail to finish in the top six, we are stuck in this league for years. The best chance to get out of this league is at the first time of asking. If we don't, we could very well end up as the next Leeds, Blackburn or Portsmouth.
The first set of numbers
I like the chart above because what it shows us is that the Championship hasn't really got any harder. And I like that because what it also means is to win, we've just got to do what others have done. But we must have that ambition.
There are 21seasons above and it shows you how many matches were won, lost and drawn in the season for the teams that won. And in fairness, some could have drawn or lost more, but rather than split hairs, I think we should use that as our ambition. Which leads me to the next table.
The next table is based on what we need to get out of each match to win the League this season and use the average from the past 21 seasons as the target. The average points to win the League from the last 21 seasons is 93.9, so for the chart below, I'm using 94 and divided over the 46 games it's a little over 2 points per game but to make my line clean, I'll make it exactly 2 points per game which is 92 points for the season, which is as good or better than twelve of the seasons above.
Needed this season
So, knowing what we know and as someone that isn't going to be happy if we're scrapping for top 6, what do we need this season? Well, it's two points per game using the numbers we have and we're four games in with five points. We're three points behind where we need to be if we're to win the league.
But this isn't cause for concern. This actually is too early to show and I fully expect it to change. I don't hope it will change or believe it will because we will get better players, I expect it to change once the new players have settled in the next couple of weeks.
Come the end of November, another fourteen games, I expect the red to be touching the blue. And, for those that think that harsh, it's about expectations, ambition and the fact that we're Aston Villa and if we don't get promoted this season, there are real things to be worried about.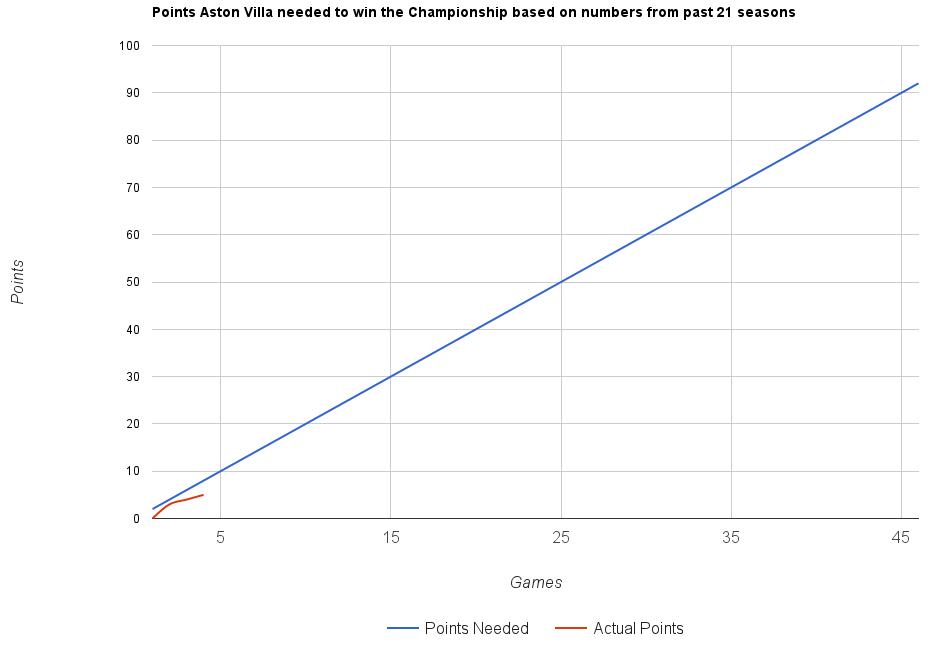 And yes, you can easily say we don't need this many points and that to be automatically promoted we only need to finish second and second is in some instances quite a lot less. But again, I point you to ambition. The teams that finished second never planned for that, they just ended up with it. No team has planned to finish second and it's not something we, a team and group of supporters of Aston Villa should even be thinking about.
The only thing we should be wanting is to win the League and it should be our target.