You all know I like a bit of banter, but talkSport really do wind me up. Don't get me wrong, they have their moments but generally speaking I only end up on the station by accident.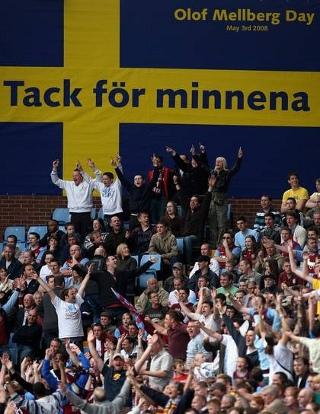 Which is why, when I saw a link to Gabriel Milito this morning and saw the source as talkSport - I dismissed it. You should too, if talkSport are the source. More like talkShite.
But now, I'm going to wildly speculate, because I like Milito and if the rumour that we could get him on a free is true - you've got to beg steal and borrow to pay him a handsome wage for two seasons, to make it worth his while.
I say two seasons because he is 30 and trust me, as someone that just ran 2 miles quicker than Robert Pires, when you get over 30 - you can't be relying on your legs and they can go at anytime.
But Milito is a quality player and would, without doubt, strengthen what we have at the club in that position.
The best Aston Villa right back
We are up to the last position for the team of our generation. You get to vote on who should be the right back and after this - I'll be putting the team together.
Me, I'm going for Mellberg - not just because of his years of dedication, his attitude and things he might have said or done, but because when Mark Delaney cost us three points against West Brom in the last seconds of the game in 2005 after letting in Paul Robinson, he was seen laughing and joking with him a minute later he left the pitch.
I can promise you one thing - I wasn't laughing and joking at the time. Like I said, I'm voting for Mellberg and not just because of what he might have said or done or years of dedication.
Punt of the day
Champions League early rounds and knock out rounds are the ones to bet on but my bet today is going to surprise a few. You see, I'm having a cheeky fiver on FC Copenhagen when they play Chelsea tonight in Denmark. You'll get 4/1 and I just have a feeling we might see an upset.
On that, I'm off. I've got a good feeling about today. Don't ask me why - but I have a feeling it might be a good day.