How do you like those apples? Two goals by England and two Aston Villa scorers. Bent did what he is good at and Ashley Young did what we would all like him to do week in week out at Aston Villa, but that is coming.
Hands up though, I didn't see the match, but I've read the comments and seen the highlights this morning, so I'm not really in any position to comment that much on the game, but Ashley did take his goal well.
Deloitte Football Money League
Aston Villa have made a return to the 'rich list' created by Delloite each year and we find ourselves in 20th place. Now, I'm not 100% sure how this list is put together but I do have a snippet from the BBC website for you that might go some way to explaining it in simple terms. It worked for me.
The Deloitte review does not include the cost of transfer fees or player wages, or VAT and other sales taxes, and concentrates solely on day-to-day income from football business.

Income includes money from ticket sales, sponsorship, merchandising and other commercial revenues, television monies, corporate hospitality and non-match day stadium use, such as for conferences.
You can download the report here and it does make for some interesting reading and there is a section on how they did it - basically it comes down to revenue from three categories; match day, broadcast and commercial. The document also includes lots of disclaimers, but it is a fair way of working it out and the only benchmark we have.
Through the gate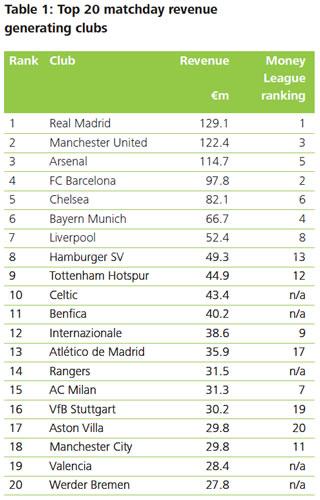 All these numbers are working off the back of 2009/10 season and there are more interesting numbers to be looked at. The table to the right shows how much money was brought in through match day revenue and in this table, we are not 20th, but 17th - ahead of Manchester City, which if I'm honest, does surprise me.
There is also another table - but you really should download the document to read it yourself, that shows we had more TV money than Spurs. The final summary is also interesting, as it suggests that the two Wembley appearances in both domestic cup competitions is basically what put us back in the top twenty since 2003/04.
The report also explains that because we put Acorns on the shirt and couldn't attract the right commercial partner, out commercial revenue is lower than that of the other clubs on the list - you'd have to fancy then that if we can get a good run in the FA Cup and with us pimping out our shirt to trade forex like a pro - we might very well make the list again next season.
But I'm just guessing and I'm not an accountant and instead of creating these images myself, I've traded like a pro and taken them from the report. But, we are seventh in the Premier League and 20th on the planet (I'm assuming this is a global report here) so things can't be all that bad, can they and things do seem to be on the up and up.
Bringing banter back
Right, to summarise - we are in the top 20 rich list, although the official name is money league, we've got no buy option on Kyle Walker after his loan period with the club and we failed in a bid to sign Galatasaray's Albanian midfielder Lorik Cana in January.
Gabby is expecting his eighth child in a few months, Ashley Young is ready to sign a new contract at the club, as long as we pay him a huge amount of cash and this next part is actually true - I was sent a Trion Z bracelet recently and thought nothing of it, but I have been wearing it recently and you know what, something has changed. I'm not sure what, but there is something to it and seeing as I've joined a gym to get fit, working on the assumption if Robert Pires can get a game, I must be in with a chance, I'm going to order another one or two and see if they really do work.
Right, I'm off now, before I start talking about feelings and gay stuff like that. I might even have a beer this afternoon just to shake myself free of getting too personal on the web.
Additional figures
Just browsing the web and I found the chart below, which I'm adding, only because I published the post not long ago. The chart shows, quite importantly, pre-tax profit and EBITDA (Earnings before interest, taxes, depreciation and amortisation). So while we might be 20th on the list of revenue - in the areas that Deloitte want to look - this picture is a little different.
I got it from the The Andersred Blog and again, I will confirm that I'm not an accountant, so I'm merely showing what someone else has published, but there does need to be balance and if football was fair (I'm not talking financial fair play), there is a chance that not all clubs in the top twenty would really be in the top twenty.