A trip to Liverpool isn't like a trip to the circus, but there will almost be as much pressure on the manager to pull something out of the bag tonight. Actually, scrap that, there is probably more pressure.
A win tonight would feel fantastic and would no doubt take a little bit of pressure off the manager but not the same amount that would be added if he lost. Ironically, if he leaves with a point, it isn't likely to relieve any of the pressure he is experiencing at the moment, despite taking a point from Liverpool.
That probably says more about Liverpool than it does Houllier or Aston Villa, but Liverpool have only lost once at Anfield in the League this season and they've picked up fourteen points from a possible twenty-one, which is only one point more than us at home and one point less than Arsenal, who currently sit on top of the Premier League.
What I'm trying to get across, despite their League position, is that Liverpool at home is a tough place to go. When Liverpool travel on the other hand, they are a team that look lost and unable to finish teams off. Coincidentally, Fulham suffered this when Roy Hodgson managed them too, but this is probably not a coincidence.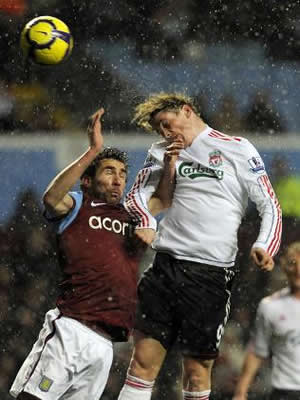 Early team news
We will know the team about an hour before kick off, but don't be surprised to see the man pictured, up against Fernando Torres, get a starting place. He was on the bench for the trip to the circus and he will be raring to go and all things point to a shake up in the back four.
I'm not sure who he will replace or even if he will get a start, but assuming he does, the question of the day is below and I'm quite keen to see these results.
One player I can say that will not be making an appearance tonight however is Ashley Young. He is suspended for this game after picking up his fifth yellow of the season and actually, this might be a good thing and a bad thing. It more than likely means that Downing will play in the left and he won't be switched, but it could also mean that Pires starts and Downing is forces to play on the right. If this happens, I'm going to send a video of me crossing from the right to the manager with my left foot, because I've got a feeling I might get offered a contract.
As and when we get the team news, we will update this post and if you follow us on Twitter - you'll get it before anyone else here.
Question of the day
Monday speculation
The Monday papers suggest we might be interested in Middlesbrough keeper Jason Steele and Crystal Palace full back Nathaniel Clyne, but when I said papers, I was actually referring to just the one, the Daily Mirror, so we don't put much weight behind this, but it is a rumour.
That said, they were right about Earth getting invaded by aliens from the IOK-1 galaxy, so who knows, if they throw enough wood on the fire eventually one of them will catch fire and then it will be a huge exclusive that they told us first.
Until later; live long and prosper.
Team news
Brad Friedel, Stephen Warnock, Richard Dunne, James Collins, Luke Young, Marc Albrighton, Ciaran Clark, Jonathan Hogg, Stewart Downing, Stephen Ireland and Gabby Agbonlahor.
On the bench: Guzan, Pires, Carew, Delfouneso, Cuellar, Lichaj and Herd.